Safety Glove Materials & Coatings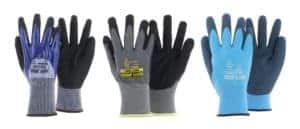 Safety Glove materials
A wide and diverse range of materials are used in the manufacturer of hand and arm protection, stretching from traditional leather to advanced synthetic yarns.
Cotton
Cotton offers good absorption of perspiration and is comfortable to wear for long periods. It can be used on its own or mixed with other fibres for improved durability. Commonly used in terry or cut and sewn drill gloves it offers good insulation but is not as durable as some synthetic alternatives.
Acrylic
Acrylic is soft and pliable and can be used on its own or mixed with other fibres. It is a light fibre with good insulation properties against cold and cost-effective to produce. It may also be used as a liner to improve thermal insulation.
Polyester
Polyester is a tough synthetic material which can be softer than nylon on the skin. Very durable and easy to wash although it can distort at higher temperatures. Whilst flammable it tends to shrink away from flames, self extinguish and absorbs very little moisture.
Polyamide
Polyamide or nylon is a tough synthetic fibre with good stretch and durability. It offers low lint properties when used alone but is often mixed with other fibres.
Aramid
The most common aramid fibre used in hand protection is Kevlar® made by DuPont™. Some PLS products use genuine Kevlar® made by approved Kevlar® licensees. It is soft, durable and washable (please avoid chlorine bleach). It can be used on its own or in combination with other fibres such as steel for high levels of cut protection. It offers good protection from heat as it does not ignite and is often used in sleeves as well as gloves.
HPPE
HPPE is a high-performance polyethylene which is light, flexible and very cut resistant. It can be used alone or with other fibres to increase cut protection. One of the biggest advantages of this fibre is its outstanding resistance to abrasion. Unlike aramid fibres, HPPE resists chlorine bleach commonly used in commercial laundering and is virtually unaffected by UV radiation. Because HPPE fibres are very smooth and lightweight they produce gloves which are very comfortable to wear. They also dissipate heat well, therefore the wearer's hands are less prone to sweating.
Composite fibres
Composite fibres are combinations where one fibre is either wrapped or coated with a different material. Typical examples could incorporate steel or glass cores for extreme cut protection while maintaining a natural glove feel. This is a particularly complex area to describe as the term applies to an almost infinite range of material combinations. While combinations which include glass fibre can offer very high cut protection in EN388 coup tests, the real-world performance can be very different.
Leather
Leather is still widely used in a wide range of PPE as it is cost-effective, durable and easy to incorporate into a wide range of gloves. Split leather is commonly used in welding gauntlets and general-purpose handling gloves giving good grip and heat protection. Premium leathers from other animals are also used in more specialised gloves as they are often still superior to synthetic alternatives. Leather gloves are still made essentially by hand and with the increasing cost of raw materials can often prove a more expensive option for less hazardous applications.
Material Comparison
The following is a comparison of the resistance and durability levels of the most common materials used in the manufacture of Safety work gloves.
| | | | | | | | | | |
| --- | --- | --- | --- | --- | --- | --- | --- | --- | --- |
| | Cotton | Polyester & Nylon | High Tenacity Nylon | Kevlar | HPPE | Glass Fibre & Nylon | Steel & Synthetic | HPPE, Nylon & Glass | Kevlar Steel |
| Cut Resistance | Poor | Poor | Average | Very Good | Very Good | Good | Excellent | Very Good | Excellent |
| Tear Resistant | Average | Average | Average | Excellent | Excellent | Poor | Excellent | Excellent | Excellent |
| Comfort | Very Good | Very Good | Good | Good | Excellent | Excellent | Poor | Good | Good |
| Heat Resistance | Good | Poor | Average | Very Good | Poor | Poor | Poor | Poor | Average |
| Cold Resistance | Good | Average | Good | Very Good | Average | Average | Average | Average | Average |
| Sweat Absorption | Very Good | Poor | Poor | Average | Good | Poor | Poor | Good | Poor |
| Elasticity | Poor | Average | Poor | Poor | Poor | Poor | Poor | Poor | Poor |
| Yarn Costs | Very Low | Very Low | Low | High | High | Low | Medium | High | High |
Safety Glove Coatings
The following details the most commonly used different safety glove coatings available on the market:
PVC
PVC is perhaps one of the most common and economic coatings available but is often out-performed by nitrile rubber. Concerns over plasticisers (DEHP) used in recent years have largely been addressed with more environmentally acceptable alternatives now in use. These gloves offer good resistance against many common chemicals especially when double dipped. PVC is particularly effective against water-based compounds but can prove problematic with oil-based products as it is oil-based itself.
One of the main disadvantages of standard PVC is the quality of grip on smooth surfaces. This lack of grip requires the user to exert more pressure when handling smooth, wet or oily items, resulting in increased hand fatigue and may also increase the risk of cuts as an object moves across the hand.
PVC Foamed
PVC foamed coatings are a fairly recent development which help to address the problems with lack of grip on wet or oily items. The sponge-like properties help conduct the liquid away from the point of contact and therefore require less pressure from the user to maintain grip. Items are less likely to slip in the hand therefore helping reduce fatigue and reduce the risk of cuts.
Nitrile
Nitrile, or Nitrile Butadiene Rubber, offers similar properties to PVC but tends to be more durable and able to resist higher temperatures. Commonly used in disposable gloves as a replacement for latex but widely used for general purpose gloves. It is particularly suitable for use against oil-based compounds, but water-based surfactants can cause a loss of tensile strength and softening of the coating.
Nitrile Foamed
Nitrile foamed is used to improve the wet or oily grip properties of gloves. The slightly porous surface helps direct liquids from the point of contact between surfaces which means a user needs less effort to grip an item compared to non-foamed coatings. Similar advantages to foamed PVC with reduced effort needed to grip oily or wet objects, better dry grip and the potential to reduce the cut risk.
Latex
Latex is a natural rubber which has been widely used for many years especially in medical examination gloves. It has excellent stretch and flexibility and when used as a coating offers outstanding grip on dry items. Unfortunately, the wide use of this product, especially within the healthcare field, has resulted in an increase in instances of latex allergic reactions.