Shoe Vouchers
PLS Professional Footwear accepts vouchers from Shoe Vouchers Ltd. If you have received TFL shoe vouchers, e.On vouchers, Stena Line footwear vouchers or from any other organisation participating in uniform footwear vouchers.
If your voucher is for an occupational black uniform shoe, we have a number of suitable styles available, including:
Skechers Squad SR – Women's
Skechers Work™ Squad SR offers a perfect blend of comfort, protection, and effortless style. This sporty utility design features a soft mesh and synthetic upper with a stretch-lace front, slip-resistant traction outsole, and a cushioned Skechers Memory Foam™ insole. Click here to view online.
Skechers Squad SR Myton – Men's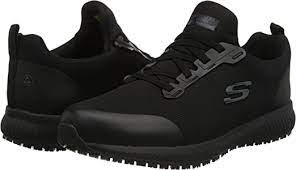 Stay comfortable and look good all day wearing Skechers Work™: Squad SR – Myton ESD. This work design features a soft knit mesh upper with a slip-resistant and Electric Static Dissipative design, plus a cushioned insole. Click here to view online.
Safety Jogger Dominique – Unisex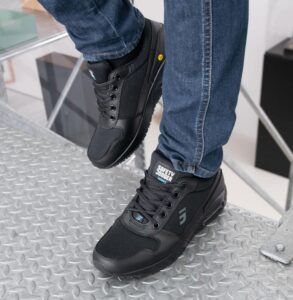 Dominique is an ultra-comfortable black unisex nursing shoe with an 'Air Unit' and renewable memory foam insole. Designed to give maximum comfort to the wearer throughout their shift. Click here to view online.
Safety Jogger Kassie – Unisex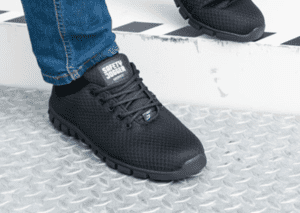 Kassie is a machine washable, comfortable, lightweight and breathable unisex professional shoe. The Kassie is designed to keep your feet fresh throughout your shift. Click here to view online.
You can also use your vouchers on a wide range of safety footwear styles, depending on your organisation's uniform footwear requirements.
How to use your Shoe Vouchers
If you have received a TFL shoe voucher, follow these simple steps:
Select the shoes of your choice and add them to the basket.
Click 'view basket' and enter the discount code TFL50 or TFL70 depending on the value of your vouchers.
Check out as a guest* (do not register as a customer), playing any remaining balance.
Post the shoe vouchers to the address below and we will get them shipped to you as soon as we receive the vouchers or proof of posting.
PLS Professional Footwear
Units 1 & 2 Elm Court
Cavalry Park
PEEBLES
EH45 9BU
*Please note: Shoe vouchers can not be used in conjunction with any other discount or offer, this includes the Happiest Feet members discount. You can refer to the 'Shoe Vouchers' section in our terms and conditions here: https://www.pls-shop.co.uk/terms-conditions/  (towards the bottom of the page).
We recommend that if a Happiest Feet member wishes to use a TFL (or similar) shoe voucher, they should first log out of the account and check out as a guest.
If you have received a shoe voucher from another organisation, or you have any questions, please contact us for your discount code.