Fit Clog P2P Unisex Washable Clog with Anti-slip and Anti-static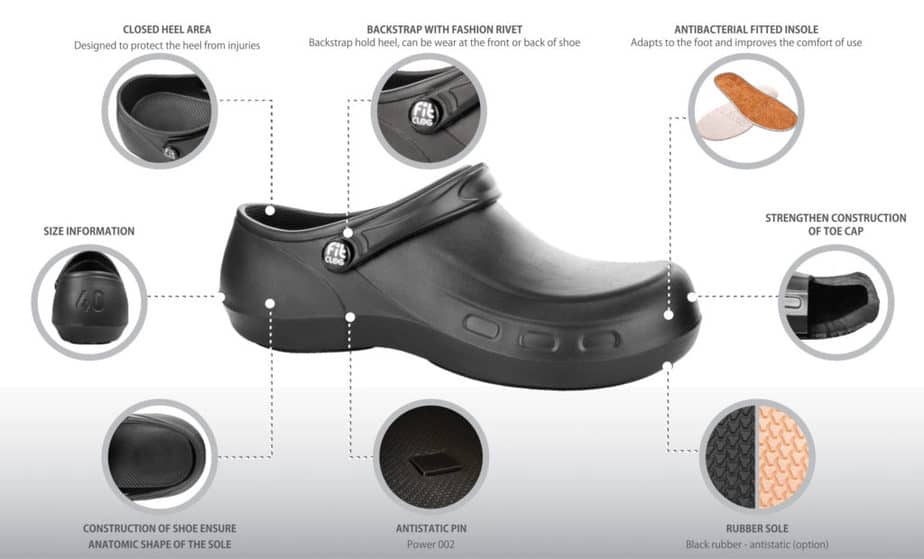 Power 002 Plus (P2P) by Fit Clog from Lemigo. Comfortable and practical footwear designed specifically for medical professionals, suitable for anyone who works on their feet. The antibacterial fitted insole adapts to the wearer's foot for added comfort and freshness. These light and comfortable washable clogs can be sterilized chemically and with UV, or washed in a regular household washing machine up to 50°C.
Slip resistance SRC (Highest Level) certified ISO 20347:2012
Shock absorption for added comfort
Clog strap pivots to be worn with or without the strap at the back
Antistatic System ideal for a variety of working environments
Closed upper with reinforced toe cap area for maximum protection
Antibacterial fitted insole which adapts to the wearer's foot for added comfort
CE certified
Rubber sole
Resistant to chemical & U.V. sterilizations
Machine washable up to 50°C
Featuring effective shock absorption to the heel and excellent cushioning across the sole to keep you comfortable throughout your long shift. The strap pivots on a secure connection, this gives the wearer the choice of wearing with the strap across the front or around the heel.
The Fit Clog Power 002 is a unisex washable clog designed for the hospital environment but suitable for anyone who spends time on their feet at work. The anti-slip and anti-static features make them an ideal solution for a variety of industries and professions including hospitality, leisure, beauty, catering, and cleaning.
Being a unisex style, the size and colour range make them an ideal choice for staff uniforms and teams.
Above all, FitClog washable clogs are lightweight and comfortable, designed to 'Make your feet happy too!'
Click the image below to view our Sizing Guide in a PDF:

*Here at PLS we understand the importance of wearing the correct size of shoe both for comfort and foot health.  All our shoes are manufactured in EU sizes, though the UK equivalent is available through our size chart. If you have any concerns or queries related to sizing, please contact us for further advice.
Would you like to know about professional footwear more before making a choice? You may find one of the following blog articles useful:
What are the best professional shoes for your needs? Click here to read our 'What are the best nursing shoes for you?' blog to find out more.
What are your options for washable nursing shoes? Click here to read our 'Washable nursing shoes & clogs' blog to find out more.
What makes safety & occupational footwear different from regular shoes? Click here to read our 'Safety & Occupational Footwear Explained' blog to find out more.
Why is slip resistance important? Click here to read our 'Slip Resistance Explained' blog to find out more.
Do you need Anti-static or ESD? Click here to read our 'Anti-static & ESD Explained' blog to find out more.