Safety Glove Types & Applications
There are many safety glove types available on the market to suit a variety of needs. This article lists some of the most popular safety glove types.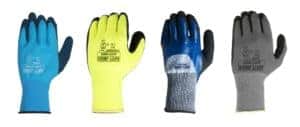 Safety Glove Types

Coated Gloves

Chemical

Chemical or liquid-proof gloves are generally coated gloves. To be completely chemical or liquid-proof, the gloves must be fully-coated. There is a difference between chemical and liquid-resistant and chemical and liquid-proof.

Fully-coated gloves can either be 'supported' or 'unsupported'. Which means with or without a lining. Supported gloves can have a variety of fabric linings that add to the comfort and fit of the gloves.

It is important to ensure that the coating is resistant to the types of chemicals that the gloves will come into contact with

.

Chemical gloves have several coating options including;

Latex Rubber

Latex rubber is usually a low-tech budget glove. Although waterproof, it does tend to blister when in contact with petroleum-based products.

The nature of latex allows for the gloves to

be manufactured

with a crinkled or exaggerated texture to increase the gripping surface

. And because they are inexpensive, they can be disposable if necessary. C

ommon applications for latex-coated gloves include construction, general assembly, material handling and utilities

.

Nitrile Rubber

Nitrile rubber (NBR) resists grease, oil and other petroleum-based products. It is also water-resistant or waterproof (when fully-coated). The glove coating

is applied

to the glove either as a foam coating or a solid-finish coating. With the foam version allowing increased gripping.

This makes nitrile coated gloves a good choice for tasks that need a high degree of dexterity and sensitivity

. Perfect for jobs where a grip is important, such as handling small oily or wet components.

Polyurethane gloves (PU)

Due to the strength of this polymer; PU Gloves provide extra abrasion resistance and durability, giving extended wear. Manufactured from a cleaner polymer, they offer a softer feel. In addition, the polymer can be harder to puncture, providing increased protection. The coating does provide waterproof protection, but only limited chemical resistance. Strength and cleanliness make Polyurethane gloves ideal for high-tech and electronic assembly work. They are also effective for inspection and quality control jobs and an excellent choice for use in critical environments.

Polyvinylchloride (PVC) and neoprene

PVC and neoprene offer excellent chemical-resistant properties. Polyvinylchloride gloves are commonly used in the petrochemical industry. Neoprene gloves provide excellent chemical resistance to a broad range of hazardous chemicals. This hazards such as; acids, alcohols, oils and inks. Although neoprene gloves can offer good grip, they generally are thicker and heavier with less dexterity.

Coated gloves with a lining

Such as cotton or cotton/polyester blends, textured nylon, fibres provide a mixture of levels of protection and comfort

. Coated gloves are available in a few versions:

full-coverage for complete liquid-proof or chemical-proof protection

palm, finger and fingertip coverage for a breathable glove

palm, fingertip and knuckle coverage.

Whatever the coating coverage, all can be either textured or have thicker finishes for better gripping

.

Cut-Resistant Gloves

Cut-resistant gloves are important when workers are at risk of getting sliced or cut in the workplace

.

Kevlar or Dyneema fibres are generally the preferred choices for food processing, industrial or assembly applications

. This is due to their comfort level.

Kevlar knit gloves that contain metal fibres offer higher cut-resistance properties. For the highest level of cut resistance, there are heavy, metal mesh gloves. These are usually used within the meat and poultry and food preparation industries.

Kevlar offers a high tensile strength that is five times stronger than steel.

Dyneema fibres (a brand of polyethylene fibres)

are engineered

to be 10 to 15 times stronger than steel by weight

. Both types of fibres, when blended with other fibres such as Lycra, can be very form-fitting.

These synthetic fibres can be slippery, so while they protect against cuts, the addition of a coating ensures a safer grip

.

Disposable Gloves

Disposable gloves are often used in medical professions. They are also used in food processing, assembly, and a multitude of other industries. Disposable gloves are available in a variety of materials:

 

Nitrile disposables are the best choice for industrial applications. When there is the presence of oil or petroleum-based products, as latex breaks down in oil. Latex is often used in the healthcare industry. But, replaced with nitrile or PVC if there is a concern of latex allergies.

Disposable gloves are available in a variety of colours to prevent cross-contamination. As well as for detection in food processing and handling. There are also specialized detectable disposable gloves made of non-metallic, metal-detectable material.

These ensure that if torn or cut, small pieces of the gloves do not go undetected in the food when it passes under metal detectors

.

Polyethene gloves are the cheapest disposable gloves. Usually used for food assembly and preparation at restaurants or cafeterias. In beef and pork, for example, synthetic nitrile gloves are a better choice all around. This is because the proteins in the meat will break down latex in a matter of hours.

Other Safety Glove Types

Anti-vibration Gloves

For specialized tasks such as operating chainsaws, grinders, nail guns and sanders. Required for any machinery that produces a high level of vibrations. Effective for anyone exposed to excessive vibration in their work. These gloves provide extra padding to help prevent hand-arm vibration syndrome (HAVS). A condition that can occur from repeat exposure to vibration.

Electrical Hazard Gloves

Workers should wear these at all times when working on general electric equipment. This includes lifts, escalators, moving walkways, swimming pools and fountains. A new application where electrical gloves are being worn is for work on hybrid vehicles with high voltage batteries.

General-purpose Gloves

General-purpose gloves are available in jersey, canvas or string knits. They are generally placed into two basic classifications: drivers' gloves and leather palm gloves.

Drivers' Gloves

Note: drivers' is a generic term for this type of glove. They are usually thin leather gloves for general-purpose use. Thin leather gloves allow good dexterity while providing protection at the same time. Leather gloves usually protect the entire hand from abrasion and punctures. They are dependable, comfortable glove for a wide variety of jobs. Drivers' gloves are available in various types of leathers and sometimes lined for cold weather.

Leather Palm Gloves

Provide

maximum

protection against abrasive and puncture hazards. Usually made of durable cotton or canvas with leather palms and fingers.

These gloves come with either knit wrist cuffs, reinforced 2½-inch safety cuffs or reinforced gauntlet cuffs

. Usually available in a lined version for cold weather.

Heat-resistant gloves

These come in a range of specifications;

Heat-resistant gloves that are flame resistant,

Convection heat resistant

A combination of all the above

The low end of heat-resistant gloves is terry cloth gloves, which feel

similar to

thick towels. Kevlar blends, as well as other similar fibres, cut resistant as well as heat resistant. There is also a variety of high-heat gloves used in foundries.

And welder's gloves and firefighter gloves, which are all made of high-duty leather with heat liners

. Carbon-X fibres are often used in high-performance motorsports. They are becoming very popular for high-heat, flame and spark resistance. They also are very comfortable and thin, allowing for extra dexterity.

Welding Gloves

Generally made of leather with heat-resistant panels. There are MIG and TIG models, as well as thinner gloves for working with different types of welding or small piece welding. These thinner gloves allow for a higher level of dexterity required when working with intricate or small items. A special feature of effective welding gloves is fully welted seams sewn with Kevlar fibres, which are five times stronger than steel. As well as being flame and heat resistant. These fibres protect the seams from degeneration due to exposure to abrasion, heat, sparks or flames.

High-visibility Gloves

Hi-vis gloves are usually available in bright orange or yellow colours and come in both day and night versions. Nighttime versions have retro-reflective patches or elements to reflect back light beams.

Mechanics Gloves

Usually made of hybrid and composite materials. Including leather, synthetic leather, waterproof materials, high-performance fibres or synthetic grip finishes. These gloves are thin, which allows for high dexterity, and are very durable. There are finger or fingerless versions. Some offer extra grip patterns for handling boxes or sheet metal. As this is a generic name for an all-purpose glove, there are a variety of versions and different looks.

Arm Protection

Arm protection, or sleeves that offer cut and heat resistance. An option that is often overlooked when selecting gloves. There are some gloves that have sleeves built-in. But there are also sleeves that can

accompany

them.

There are several good reasons to buy the sleeve separate from the glove.

For example, sleeves may last longer than the gloves due to less exposure to abrasive materials or heat

.

Replacing the gloves when needed can be cheaper than purchasing a glove that has built-in sleeves

.

In addition

, some workers may only need one sleeve because they only have one arm exposed to hazardous elements

.

There are several different versions of weight and cut and heat resistance that may be appropriate for the application

.

The extensive variety of gloves available and the range of specifications can be daunting

.

It is important to consider specification when selecting a glove for a particular application

.

Using the right glove for the task is worth the investment compared to the potential alternative of hand injuries

.
Would you like to know more about hand protection and work safety gloves? You may find one of these articles helpful:
Would you like to know more about European Hand Protection Standards and the related symbols? Click here to read more about European Hand Protection Standards
Unsure of your glove size? Click here to read our 'Glove Sizes – Size Measuring Guide' blog
Would you like to know more about the materials used? Click here to read our 'Glove Materials & Coatings' blog.
Click here to visit our safety gloves department.