Our Feet Are Getting Bigger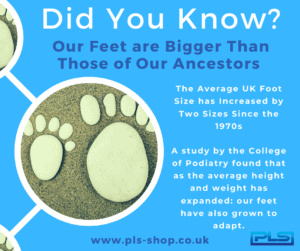 A study by the College of Podiatry has found that the average shoe size in the UK has increased by two UK shoe sizes since the 1970s. Where a UK size 4 used to be the most popular size for women, a UK size 6 is now the most common size. The same is true for men's shoe sizes where the average size was previously a UK 8, now a 10 is the most popular size.
A key contributing factor to this growth is improved nutrition. Richer diets bring increased growth, seeing children becoming much taller than they were a few decades ago. In 1961, the average 11-year-old girl had size 3 feet and the average 11-year-old boy was size 3.5 to 4. Now the average 11-year-old girl has size 4 feet, and the average boy is size 4.5 to 5.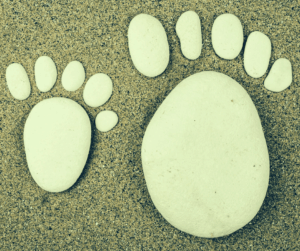 Lorraine Jones, from the College of Podiatry – the research arm of the Society of Chiropodists and Podiatrists – said; "Feet are getting bigger because as a nation we are becoming taller and we're increasing in weight. Increased weight gain places more pressure on the feet and means ligaments and joints need to work harder to maintain the foot's structure and keep you mobile. Over time if someone is gaining weight the feet splay to try and accommodate the increased pressure, which can cause pain, lead to mobility issues, and increase your risk of developing osteoarthritis in the lower limb joints. Whatever your shoe size, the most important thing is to wear a comfortable, well-fitting shoe."
Wearing the correct shoe size is extremely important, especially when selecting shoes for work. The downside in squeezing your feet into ill-fitting shoes reaches far beyond comfort – the consequences can include bunions, hammertoes, corns, calluses, foot deformities, joint problems, and aches and pains.
It used to be the case that women with larger feet were largely restricted to men's footwear, and men with larger feet had to seek out specialist stores, with very limited choice in terms of style for both. When it comes to seeking out professional footwear with safety features such as non-slip soles and anti-static or ESD, this could be a real problem as the choice would be very limited and could lead to individuals wearing footwear that is not up to the job.
Luckily, our manufacturing partners recognise this issue and have been working hard to develop their product ranges to be suitable for professionals of all shapes and sizes. They now have an excellent range of styles of professional nursing shoes for bigger feet.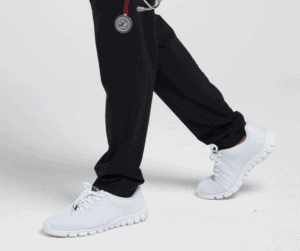 Safety Jogger Professional have been developing their range of unisex professional footwear styles with an excellent size range from EU size 35 (UK 3) to EU 48 (UK 13) such as the new 'Kassie' trainer (see image above). A lightweight and breathable trainer style shoe with an SJ memory foam footbed for added comfort.
Another new unisex style with an excellent size range is the 'Dominique' a smart and comfortable black shoe with an air unit and memory foam footbed, designed to keep you comfortable throughout your long shift.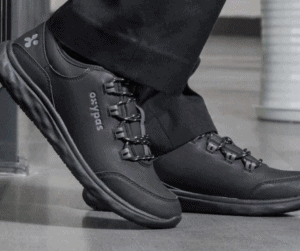 In addition to their unisex styles, Safety Jogger Professional have a wide range of styles that are available in both men's and ladies' options. This includes styles such as the popular 'Patricia' and 'Roman' (see image above) and 'Ela' and 'Justin' trainers. The ladies' size options range from EU 35 (UK 3) to EU 42 (UK 8) and the men's range from EU 39 (UK 6) to EU 47 (UK 12). The ladies and men's styles have the same safety features and overall look. The most significant difference is the size range and sometimes the colour options available. For example, both the Patricia and Ela styles are available in pink, where the Roman and Justin styles are not.
Most of our washable shoes and clogs are available in unisex size ranges making them an ideal choice for teams and staff uniforms. This includes our bestselling Safety Jogger Professional styles such as the autoclavable 'Oxyclog', and the 'Oxyva', 'Sonic', 'Smooth' styles with an excellent range of colours to choose from and sizes to fit all.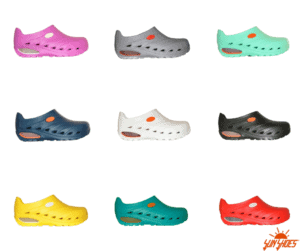 One of our most popular unisex styles, the 'Dynamic' by SunShoes has recently launched XL sizes, adding an EU 47 (UK 13) and 48 (UK 13.5) to their range. The Dynamic (see image above) is a lightweight, washable clog with a patented footbed featuring excellent postural support. The Dynamic is very effective in the treatment of Plantar Fasciitis and other common conditions. With 14 sizes and 10 colours to choose from, there really is something for everyone.
If you have any queries regarding shoe sizing or would like further advice, please contact us at [email protected]
Would you like to know about professional footwear more before making a choice? You may find one of the following blog articles useful:
What are the best professional shoes for your needs? Click here to read our 'What are the best nursing shoes for you?' blog to find out more.
What are your options for washable nursing shoes? Click here to read our 'Washable nursing shoes & clogs' blog to find out more.
What makes safety & occupational footwear different from regular shoes? Click here to read our 'Safety & Occupational Footwear Explained' blog to find out more.
Why is slip resistance important? Click here to read our 'Slip Resistance Explained' blog to find out more.
Do you need Anti-static or ESD? Click here to read our 'Anti-static & ESD Explained' blog to find out more.